University of Patanjali (UoP)
At present, its office is situated at Patanjali Yogpeeth. It is situated at 18 km south to Haridwar and 12 km north to Roorkee on Delhi-Haridwar National highway. The University is easily assessable through Roorkee and Haridwar Railway Stations. The nearest Airport is situated at Dehradun.
The University of Patanjali (UoP) is named after the great Indian sage Patanjali (c. 900 BC,), who first compiled the numerous writings on Yoga in the form of aphorisms. It was established through Act No. 4/2006 of Uttarakhand State Legislature published in the State Gazette on 05.04.2006. The University is sponsored by Patanjali Yogpeeth Trust (PYP) and is located on Delhi Haridwar National Highway at Bhadrabad, Haridwar nearby the bank of the Ganges. The University is a member of the Association of Indian Universities.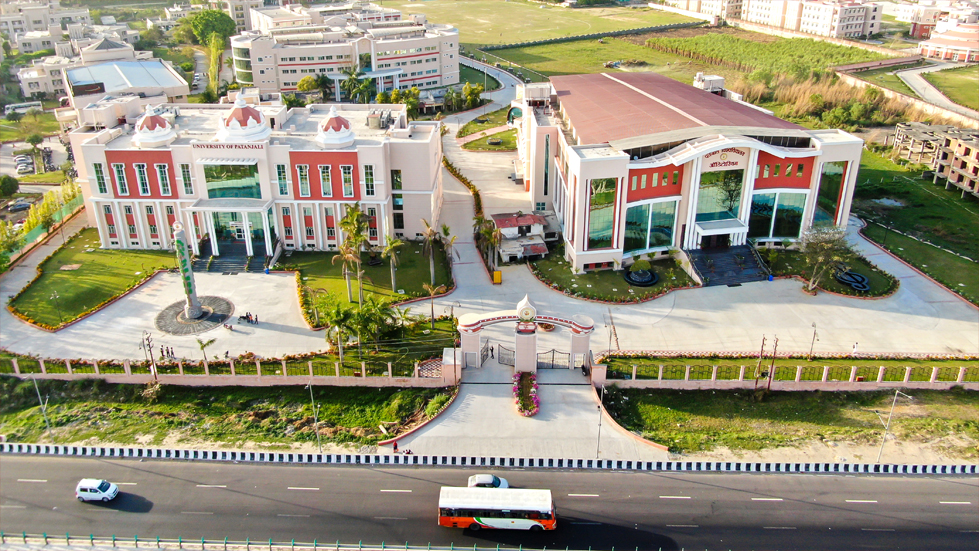 Features of University of Patanjali
National Integration
Male/Female students from India & abroad are studying at present in the university. All the students get due care and guidance irrespective of their caste creed, language, state, sect, etc., in accordance with the noble sentiment of "vasudhaiva kutumbakam"(the whole world is our family). Humanitarian qualities like mutual co-operation, harmony, etiquette, etc. are developed in students.
Celebration of Festivals
Festivals and days of social and national importance like Holi, Deepawali, Makar Sankranti, Rakshabandhan, Independence Day, Republic Day, etc. are celebrated on the university campus with a lot of jubilation.
Gurukul Tradition
Efforts are made to develop sacred and kindred relations between the teacher and the taught in keeping with the Gurukul tradition. Parental affection and love is provided by the teachers to all students.
Values Development
The main stress is laid on development of sacraments, good habits and values in the students. Every effort is made to develop in all students a sincerity and sense of duty toward their culture and humanity.